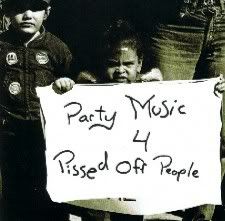 Never has an album been as appropriately titled as Sketch Tha Cataclysm's
Party Music 4 Pissed Off People
.
PM4POP
is exactly as advertised, socially conscious music that you can dance to. While a lot of artists have attempted to play both sides of the coin Sketch has managed to succeed where most of them have failed. Neither lyrics nor production take a backseat on
PM4POP
as Sketch has made sure both shine equally without letting one overtake the other at any point during the album. If you're looking for something that will make you think and will make you shake your ass at the same time pick
Party Music 4 Pissed Off People
up. With songs such as "The Revolution Will Not Be…" and "Betsy Ross and the Miseducation of America," you won't be disappointed.
For more on Sketch Tha Cataclysm check him out at
myspace.com/sketchthacataclysm
.